Yoo Myung-ho, CEO of Uni-Lok, said, "Supplying high-performance valves to Samsung Electronics and SK Hynix."
"Continue R&D in the event of a crisis…Opening the 100 Billion Era of Sales"
The prolonged outbreak of coronavirus infection (Corona 19) is adding to the difficulties of companies. However, there are also companies in the industrial complex that prepare for the future through drastic facility investment and management innovation. Unilac, which produces high-performance valves, recently completed construction of a new plant on Sihwa MTV and prepared for takeoff. It also set up a vision that it will reach 100 billion won in sales within a few years.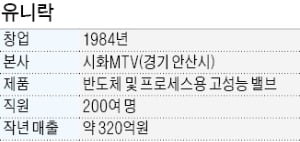 Pipes pass through production lines at major plants, including semiconductor plants. It is a pipe that transports fluid gases, etc. There are valves all over the pipe. It is a small part, but it plays a very important role. If fluids or gases flowing inside are explosive chemicals or harmful gases, they can lead to accidents if they are not properly controlled.

Uni-Lok (CEO Yoo Myung-ho, 63), which is located in Sihwa MTV (Multi-Techno Valley), is a manufacturer of high-performance valves that are used in such places. Many of these valves have been localized one by one, although U.S. or Japanese companies have dominated the domestic market. It also developed a micro fluid transport system. It is a precision product that has been mainly supplied by Japanese companies. It also localized high-performance regulator for semiconductors that prevents gas leakage due to corrosion by applying its own metal coating technology.
Now it has started to introduce products that surpass advanced countries. The newly developed process valve has a response speed of less than 5/1,000 seconds. You can control it in such a short moment. This means that the fluid can be controlled by the exact amount. CEO Yoo explained, "The valve has become a key component that determines the success or failure of the manufacturing process, not just the function of opening and closing the valve."

The company completed construction of a new plant here late last year. The land is about 20,000 square meters and the total floor area is 15,000 square meters. Factories, office buildings, and welfare buildings have been built. In preparation for the expansion, 7,600 square meters of land remained. It spent a total of 48 billion won (based on completion of facility investment) for purchasing land, building, and facility investments. Entering the third floor of office, Sihwa Lake opens up right in front of you. Across the street, you can see a wide field, including the Hwaseong dinosaur egg fossil site. The late afternoon's fall is spectacular.

The establishment here comes after the Korea Industrial Complex Corporation, which sold Sihwa MTV, classified the company's business as a high-tech business. All parts of the factory are clean spaces. "Because it is a product that is supplied to semiconductor factories, level of clean room in our plant is similar to that of semiconductor factories." said CEO Yoo. South Korea's main customers include Samsung Electronics Co. and SK Hynix Co. It will export to 40 countries in the U.S., Europe, Asia, the Middle East and South America. The trading partners are companies in petrochemicals, power generation and energy, semiconductors, bio and fuel cell sectors. It is supplying its own brand called Uni-Lok.
The company's growth stems from Yoo's obsession with technology development. After graduating from school, he joined a fitting and valve production company in Cheonggyecheon, Seoul, and took charge of sales. In this process, they learned about characteristics of products and later reached a level where they can develop technologies at all. In 1984, he started his business with a technician and a female employee near Anyangcheon Ttukbang near Guro Tools Shopping Center in Seoul. It did not let go of technology development until it was relocated to Sihwa MTV via the Namdong Industrial Complex in Incheon. When I made a lot of money from exports, I was tempted to buy a building, but I rejected it. It was because of the belief that manufacturing should compete with high-tech and equipment.

The company has about 30 researchers. Yoo calls his lab a "playground." This is because researchers believe that creative products come only when they interact with each other in a free atmosphere. The number of patents for invention amounts to 48 cases, including applications). "We have all the key technologies that are specialized in manufacturing high-performance valves such as optimized design technology, low-temperature ion plasma surface hardening heat treatment technology, and thin film coating technology," said CEO Yoo.
ales of the company, which has some 200 employees, reached 48 billion won in 2017. Due to the economic recession and the trade dispute between the U.S. and China, the amount fell back to 32 billion won last year. However, it has developed high-performance products by strengthening research and development during the recession. The development of valve for process and ultra-small fluid transport system is typical. "As high-performance valves and other products have come out, orders are continuing," CEO Yoo said. "Sales will exceed 100 billion won within the years."

Kim Nak-hoon, president of Hankyung Global Small Business Research Institute nhk@hankyung.com